NEWTOWNARDS, Co Down, 10 December 2018: another award for Shnuggle; this time as a recipient of one of Crescent Capital's much coveted Green Bar Awards.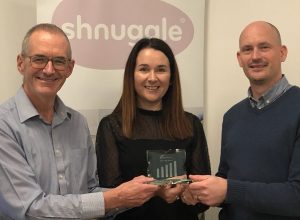 The Green Bar Award is for companies within the Crescent portfolio that deliver profitability for five consecutive quarters (thereby achieving five green bars in its quarterly performance chart!).
This is very challenging and it's been over two years since one was handed out but Shnuggle has proved to be up for it and is a most worthy recipient.
Shnuggle has been going from strength to strength under Adam and Sinead's leadership.
Congratulations to the newest recipient of Crescent Capital's Green Bar Award.
---