Aer Lingus TakeOff Foundation Business Awards recognise NI's top companies
LONDON, 8th May 2018 – Northern Ireland's best businesses and two outstanding individuals have been honoured at the 2018 Aer Lingus TakeOff Foundation Business Awards in the palatial surroundings of the IoD headquarters on Pall Mall in London.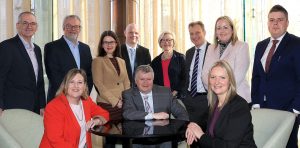 Crescent's Bob McGowan-Smyth was one of the 11 strong panel of judges.
The awards were presented across nine categories to businesses that have excelled in areas such as fast growth, export, innovation, and marketing.
"The Aer Lingus TakeOff Foundation Business Awards are now one of the most prestigious events on the business calendar and we are delighted to recognise and support those organisations that represent the best in their sectors," said Andrea Hunter, Business Development Manager of Aer Lingus in Northern Ireland.
"This was a true celebration of business excellence and on behalf of Aer Lingus I would like to congratulate each of the winners for their remarkable accomplishments."
This year's winners are as follows:
Best Business Start-Up Award: AG Electrical NI Ltd
Best SME Award: STATSports Group Ltd
Fast Growth Business Award: FinTrU Ltd
Excellence in Marketing Award: Babocush
Exporter of the Year Award: Brookvent
Innovation of the Year Award: See.Sense
Business Person of the Year: Cathal Grant, CGDM Construction Ltd
Overall Excellence Award: Selective Travel Management
The ceremony also recognised Trevor Annon, Founder and Chairman of Mount Charles, with a Lifetime Achievement Award for his outstanding contribution to business life in Northern Ireland.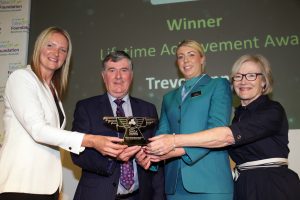 With Trevor's guidance, Mount Charles has created true economic benefit not only for its employees and their families, but also for the wider NI economy.
Mount Charles currently sources approximately 90% of their food from NI suppliers attributing to a contribution of £9m per annum to the NI economy, while labour costs currently generate £17m per annum.
In October 2016 Trevor opened a brand new state-of-the-art headquarters in Belfast, having invested £1.6m in the building's purchase and refurbishment, making a significant statement regarding the company's commitment to future growth and development.
Business Person of the Year Cathal Grant, Managing Director of CGDM Construction Ltd, was delighted to win this award, and was overwhelmed to be honoured amongst the best of NI businesses.
Cathal explained that CGDM has grown rapidly, "by securing high value contracts in the commercial, retail, banking, health, leisure and hospitality sectors throughout the UK and Ireland."
Cathal oversaw the diversification of his company from an architectural design business to a design and build business, combining architectural and construction services.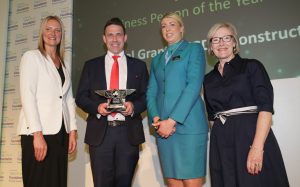 "To facilitate business expansion and grow market share in Ireland and Great Britain, we have since established offices in Dublin in 2015 and most recently in London in 2017," he said.
The company employs 21 staff and 60 sub contractors and plans are underway to build larger offices in Newry to enable further expansion.
Keith Graham, Managing Director of Selective Travel Management, winners of the Overall Excellence Award said: "We have seen massive growth for the company this year and we are very proud that our efforts have been recognised with the Overall Excellence Award."
Located in the historic Murray's Exchange in Belfast City Centre, the company employs 114 travel professionals, providing expert support with fully bespoke technological solutions to a customer base spread across the United Kingdom. The last four years has seen their turnover grow by 68% from £29.4m to £49.5m.
Keith explained that "first class, 24/7, customer service, latest technology and an exclusive and proactive 'Duty of Care' programme have combined to reinforce our business edge and continues to fuel our current success and future growth."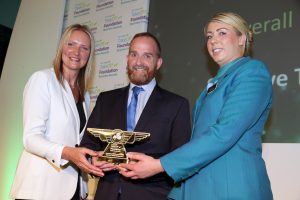 ---