Aer Lingus TakeOff Foundation Business Awards Shortlist Revealed
BELFAST, 26 March 2018: Tension is mounting with the announcement of the 10th annual Aer Lingus TakeOff Foundation Business Awards shortlist, following deliberation by an 11-strong panel of judges that included Crescent's Bob McGowan-Smyth.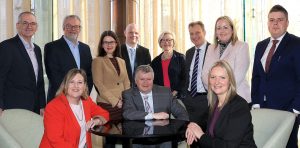 The awards celebrate and reward those companies that have contributed to the local economy and also made significant progress in global export markets.
Among the nine contested categories, Fortress Diagnostics, Environmental Street Furniture and Brookvent vie for the title of Exporter of the Year, while Cyphra, FinTrU Ltd and UForm battle for the Fast Growth Business Award.
Shortlisted companies will be flown to a prestigious awards ceremony in London from George Best Belfast City Airport with Aer Lingus.
The esteemed judging panel included Andrea Hunter, Business Development Manager at Aer Lingus; John Mulgrew, Editor, Ulster Business; Gary McDonald, Business Editor, Irish News; Margaret Canning, Business Editor, Belfast Telegraph; Richard Sherriff, Business Editor, News Letter; Wendy Austin, Presenter, BBC Inside Business; Bob McGowan-Smyth, Investment Director, Crescent Capital; Kieran McGarrigle, Partner, Head of Finance, Arthur Cox; Kirsty McManus, National Director, Institute of Directors NI, Jeremy Fitch, Executive Director, Business and Sector Development Group, Invest NI and Roseann Kelly, Chief Executive, Women In Business.
Andrea Hunter, Business Development Manager at Aer Lingus said: "The Aer Lingus TakeOff Foundation is proud to support and celebrate outstanding businesses across Northern Ireland. Every year the calibre of entrants seems yet more impressive than the one before. It wasn't easy to arrive at our list of finalists, but each one of them deserves their place on the shortlist.
"The companies and individuals we're rewarding have demonstrated a true commitment to innovation and have achieved remarkable growth both here in Northern Ireland and across the globe.
"They are playing a pivotal role in the economic growth of Northern Ireland and their achievements, their entrepreneurship and business acumen act as a benchmark to the rest of the business community here."
The Aer Lingus TakeOff Foundation Business Awards ceremony will take place on Tuesday 8th May 2018 at the IoD Headquarters on Pall Mall, London.
TakeOff Foundation Business Awards Shortlist:
Best Business Start-Up Award: Groundswell Growth Ltd, Titanic FX and AG Electrical NI Ltd
Best SME Award: STATSports Group Limited, CGDM Construction and TS Foods
Fast Growth Business Award: UForm, Cyphra and FinTrU Ltd
Excellence in Marketing Award: Henderson Wholesale Ltd, Danske Bank and Babocush
Exporter of the Year Award: Fortress Diagnostics, Brookvent and Environmental Street Furniture
Innovation of the Year Award: See.Sense, Rolltack and OKTO Technologies
Business Person of the Year Award: Keith Graham, Selective Travel Management, Cathal Grant, CGDM Construction Ltd and Gareth Loye, Mascott Construction
Overall Excellence Award: IPC Mouldings, Selective Travel Management and OKTO Technologies
The recipient of the Lifetime Achievement Award will be announced during the awards ceremony luncheon.
For more information about the 2018 Aer Lingus TakeOff Foundation Business Awards, visit aerlingusbusinessawards.com
---