Access to VC Funds at an All-Time High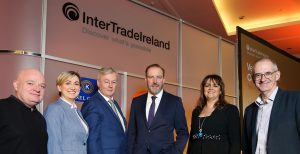 BELFAST, 7th March 2018 – Delegates attending the Crescent Capital supported InterTradeIreland 17th Annual Venture Capital Conference in Belfast today heard that with plenty of international money flowing, VC funding is at record levels, making this the perfect time to secure capital.
The Irish Venture Capital Association, due to publish 2017 figures shortly, will likely show firms on the island raised close to a record €1 billion last year. Since the onset of the credit crunch in 2008, more than 1,450 SMEs have raised venture capital of €3.6 billion.
The focus of this year's conference was 'The Funding Landscape' and brought together a capacity audience of more than 300 delegates, comprising entrepreneurs, venture capitalists, business angels, other investors and start-ups seeking investment.
Serial entrepreneur Eleanor McEvoy, CEO of Budget Energy Ltd and the recently launched BEenergy, was the keynote speaker.  No stranger to raising capital, Eleanor's experience to date and business credentials mean that she knows exactly what it takes to grow a company from nothing and she shared her insights and learnings with a keenly-engaged audience.
Having just completed her second season as a dragon on RTE's Dragons Den, Eleanor is now in a position to give a helping hand to those on a growth trajectory and has committed substantial funding to a number of young businesses.
The British Business bank, attending the event for the first time, confirmed that they have a fund of £1.5bn available to invest in VC projects.  Patrick Magee, Chief Commercial Officer at the British Business Bank, said: "I'm delighted to have brought a delegation of UK venture capital leaders to Belfast this week. The range of fund managers participating – with current VC funds of over £500m – indicates a real interest in the Northern Ireland high-growth business investment market. Equity capital is crucial for helping innovative, fast-growing, businesses scale-up.  As the UK's largest British-based venture capital LP, with over £1bn invested across a range of different programmes, the British Business Bank is working to support smaller businesses all across the UK seeking to access this important type of finance."
Ken Nelson, Chairman of InterTradeIreland said: "Venture Capital continues to be an increasingly popular route for businesses wanting to grow.  As we have heard today, the number of options are expanding year on year, so it is vital that companies have the right information to help them access these funds.  Our research has shown that there is limited knowledge of options available including venture capital, crowdfunding and business angel funding so our conference helps to bridge this gap by providing early stage companies that are seeking funding with the information they need and access to leading venture capitalists and business angels from across the island.
Ken added; "Our conference is designed to facilitate networking between leading venture capitalists, business angels and start-ups that are seeking funding from across the island and break down any barriers preventing burgeoning businesses from moving to the next level.
"It is critical that we continue to nurture ambitious entrepreneurs to ensure that both economies prosper and that we foster success as there is significant venture capital and early stage funding available for those with the right project and the drive and determination to succeed.
This year's conference is supported by Crescent Capital, Kernel Capital, KPMG and Mills Selig.
---