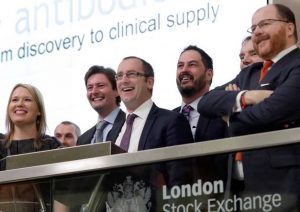 BELFAST, 18 December 2017 – Crescent welcomed the first share dealings of its portfolio company, Fusion Antibodies plc (FAB.L), on London's Alternative Investment Market ('AIM').
Fusion raised £5.5m in a new equity placing from institutional investors including Crescent Capital III LP as well as a £1m placing of existing shares.  It joins two other currently listed Northern Ireland companies: Kainos Group plc (KNOS.L), listed on the London Stock Exchange main market and First Derivatives plc (FDP.L), listed on AIM.
This listing is the fourth Northern Ireland venture-backed company to achieve a successful initial public offering ('IPO') on the London Stock Exchange.
The Crescent team's previous AIM IPOs were BCO Technologies plc (BOH.L) in 1997 (subsequently sold to Analog Devices, Inc. (NASDAQ:ADI) for £100m in 2000) and Andor Technology plc (AND.L) in 2004 (subsequently sold to Oxford Instruments plc (OXIG.L) for £176m in 2013).
Colin Walsh, chief executive of Crescent Capital, said 'this IPO is the Crescent team's third local venture-backed company to go public.
'I have been a long time proponent of using the stock market as a source of growth capital for developing businesses. Fusion is a great example of a growth business using AIM to raise funding for expansion.  It is bringing them the funding it needs at a great valuation but will also raise its credibility with their customers and other stakeholders as well as raising the bar as to how the business is managed. For the life of me, I don't understand why more Northern Ireland companies are not queuing up to do likewise'.
Fusion was established in 2001, as a spin out from Queen's University Belfast, and whilst it initially focused on drug development revised its operations to focus on contract research organisation work in 2011.
Fusion has an international, blue-chip client base, which includes eight of the top ten global pharmaceutical companies. It provides antibody engineering services to these clients for the development of antibodies for both therapeutic drug and diagnostic applications.
It will use the funds raised in the IPO to help expand its existing laboratory space, increase sales and marketing efforts, development new service lines and provide additional working capital.
---