Artificial Intelligence Firm Ampliphae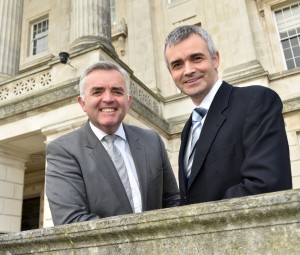 BELFAST, 22 June 2016:  Enterprise, Trade and Investment Minister Jonathan Bell has announced Belfast-based technology company Ampliphae is to create 20 new high skilled jobs as part of a £1.4million investment.
Ampliphae supply software products for businesses, enabling them to take control of the Cloud based computing networks that connect their office based and remote workers in a cost effective and flexible way.
Commenting on the investment, Jonathan Bell said: "Ampliphae is a highly innovative technology company operating in an area of high growth potential. Its investment to develop and commercialise Cloud-focussed enterprise network products is progressing well and will
create employment opportunities in specialist roles that, when in place, will contribute £1.2million annually in additional salaries to the local economy.
"Once again we are seeing the rise of Northern Ireland's telecommunications industry and Invest NI's support for this project is enabling Ampliphae to position itself to succeed in the global telecommunications market."
Invest Northern Ireland has offered the company £465,000, part funded by the European Regional Development Fund, to support the research, development and marketing of Ampliphae's new products.
Trevor Graham Ampliphae Co-founder and CEO added: "The global explosion in Cloud Computing means businesses everywhere are critically dependent upon communications networks, which are becoming ever more complex and difficult to operate efficiently and securely.
"Ampliphae's products tackle this complexity using cutting-edge Artificial Intelligence, enabling our customers to operate networks more effectively and thus ensure their business-critical applications perform correctly."
Invest NI's research and development assistance is part funded by ERDF under the EU Investment for Growth and Jobs Programme 2014–2020.
The company has also received a £500,000 equity investment from the Crescent Capital Development Fund. The Fund, part financed by the European Regional Development Fund under the EU Investment for Growth and Jobs Programme 2014-2020, was established in 2012 by Invest Northern Ireland to assist Northern Ireland based SMEs with high growth potential access the capital required to accelerate growth.
---