Aer Lingus Viscount Awards: finalists revealed and primed for take-off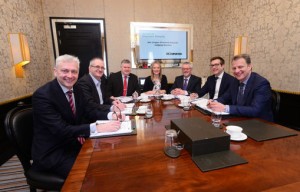 BELFAST, NORTHERN IRELAND, 18 March 2015:  A butcher, a tailor and both a tanning and packaging maker have made it through the finals of the Aer Lingus Viscount Awards in a toughly-fought competition which has highlighted the wealth of talent in the Northern Ireland business world.
Peter Hannan of Hannan Meats, Shelly Taylor from Taylored Workwear, Alyson Hogg from Vita Liberata and Jarek Zasadzinski from Greiner Packaging have been named finalists in the Business Person of the Year category of the awards, which take place in association with Ulster Business.
The winner of this and the other categories will be named at an awards ceremony in London held in the Members' Dining Room of the House of Commons on April 21 where the finalists in Northern Ireland's most respected business competition will be gathering.
Fighting it out for the honour of Best Small Business are energy-saving ventilation manufacturer Brookvent, children's program maker Sixteen South and meat supplier Hannan Meats.
The finalists in the Best Medium Business are fit out company McCue Crafted Fit, packaging company Greiner Packaging and generator manufacturer AJ Power.
Building firm Gilbert Ash has been named a finalist in the Best Large Company while Devenish Nutrition, Hunter Apparel Solutions and Specialist Joinery Group make it through in the Most Innovative Company round, one of the most tightly-fought.
The judges said Exporter of the Year was also a high calibre category with AJ Power again making an appearance in the finals alongside Mash Direct and TG Eakin.
For the prize of Overall Excellence, Linwood Health Foods is shortlisted along with TG Eakin.
The seven strong judging panel for the awards comprised of Andrea Hunter, Aer Lingus Business Development Manager in Northern Ireland; Jeremy Fitch, Executive Director, Business Solutions Group at Invest NI; Bob McGowan-Smyth, Investment Director at Crescent Capital; Richard Sherriff, Business Editor of the News Letter; Gary McDonald, Business Editor of the Irish News, Alan Taylor, Managing Partner at Arthur Cox and David Elliott, Editor of Ulster Business.
Andrea Hunter said the standard of entry was extremely impressive.
"The quality of entrants for this year's Viscount Awards has been staggeringly high and we've had the privilege of examining the work of many of Northern Ireland's most dynamic organisations," she said. "Some of the companies we looked at were hidden gems, representing all that is good about NI business today.
"What they all had in common was tenacity, the ability to diversify to survive and ultimately the dedication and hard work they put in, which is at the heart of all their successes."
The finalists will be flown to London Heathrow from George Best Belfast City Airport courtesy of Aer Lingus for the awards ceremony on April 21.
Courtesy of Ulster Business
http://www.ulsterbusiness.com/articles/2015/03/18/aer-lingus-viscount-awards-finalists-revealed-and-primed-for-take-off
---