'Dolly the Sheep' Business Mastermind Joins Digital Pathology Company
PathXL welcomes one of UK's leading medtech minds onto their Board
One of the leading names in the UK's healthcare technology sector, Professor Simon Best, has joined the Board of PathXL. The Northern Ireland Science-Park based company, a Queen's University Belfast spin-out, is a pioneer in the use of web-based solutions for digital pathology.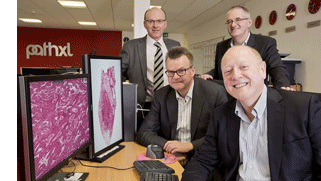 Chief Executive Des Speed said: "We are really delighted to welcome someone of Simon's stature, with over 27 years' experience in the healthcare, food and agriculture, chemicals and industrial biotechnology sectors, to the PathXL board.
"In this time, he has founded several major bio-pharmaceutical and med-tech businesses and gained significant entrepreneurial and senior management experience in raising finance, deal formation and product commercialisation.
"Simon's expertise will clearly help PathXL grow as a company and progress the delivery of new patented technology and new products that we plan to take to market in a very assertive way."
As CEO, it was Prof Best, who was responsible at Roslin Biomed for the commercialisation of the technology used to create Dolly the sheep. Overall, he has helped raise over £170m for lifescience companies in the past 15 years through Angel and Venture fund-raisings, trade-sales and flotations on both AIM and the main-board London Stock Exchange.
He said: "I am delighted to be joining the Board of such an exciting young company. PathXL is at the leading-edge of digital pathology which is a 'hot' field whose time has definitely come.
"The company is poised to speed up the diagnosis and selection of targeted therapies for patients thereby generating very substantial financial returns to its investors."
PathXL, who recently announced a new seven-figure investment into the further development of its innovative digital pathology software, have new projects coming up in 2013 on image analysis.
One of the investors is Crescent Capital and Bob McGowan-Smyth has also just joined the PathXL board to represent the NI-based investment company.
Mr McGowan-Smyth is an experienced venture capitalist and has been a Board member of over 20 commercial organisations.
---