Seven figure investment announced by Belfast software pioneer PathXL
Digital pathology company to expand cancer research & diagnosis support products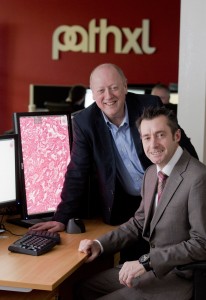 BELFAST, NORTHERN IRELAND, 13 December 2012:  PathXL, a Crescent Capital-backed company based at Northern Ireland Science Park in Belfast's Titanic Quarter, today announced a new seven-figure investment into the further development of its innovative digital pathology software.
The Queen's University Belfast spin-out, which was established in 2005, is a pioneer in the use of web-based solutions for digital pathology, mainly in regard to cancer, for use in research, biobanking, clinical and education markets worldwide.
Making the announcement, Chief Executive Des Speed said the investment recognised that digital pathology was quickly maturing, moving from an era of point solutions to one of the transformation of entire workflows.
"This funding will enable us to progress the delivery of new products and take them to market in a very assertive sort of way," said Des. "For example, we are going to be investing much more in the analysis of images – we have some extremely clever stuff coming along.
"It is very exciting for us to be involved in this area of work because we want to make a real difference in cancer related research and clinical diagnosis.  Our ultimate aim is to become world famous for contributing something really meaningful to the field of digital pathology."
The new funding has come from a variety of sources, including major contributor Par Equity of Edinburgh and Clarendon Co-Investment Fund, both new investors, as well as increased support from existing investors Crescent Capital, QUBIS and e-synergy.
Paul Atkinson of Par Equity, said: "PathXL represents an ideal opportunity for our Innovation Fund, being led by an experienced management team with both commercial traction and a new patented technology that promises to deliver better outcomes for patients. We are excited to partner PathXL and be part of its success."
PathXL, which was founded by Peter Hamilton, Professor of Bioinformatics at Queen's, and lecturer Jim Diamond, employs 25 people and is aiming for 50% growth by year-end next March.
Prof Hamilton said: "Digital pathology is right at the heart of new personalised therapies in cancer.  PathXL is making a significant contribution to this development through its range of software solutions and services, enabling cancer researchers around the world to speed up the discovery process.
"It is enormously satisfying to see a Northern Ireland company spun out from QUB leading the way in this sector.  This success demonstrates the enormous value of the knowledge-driven industry that exists within NI, both to the local economy and to the international fight against cancer."
PathXL's top team paid tribute to the "ground-breaking" research and validation support they receive from QUB Digital Pathology Research Group (led by Prof Hamilton) and the Centre for Cancer Research and Cell Biology in Belfast.
There was also praise for Invest NI.  "They were instrumental in helping us to move to the next stage," said Des, "from offering proactive support and identifying funding sources, to alerting us to networks and helping us build new relationships."
Crescent's Bob McGowan-Smyth has joined the board as a non-executive director.
---