CSR aptX Codec Gives Samsung GALAXY Tab 7.0 Plus Superior Wireless Audio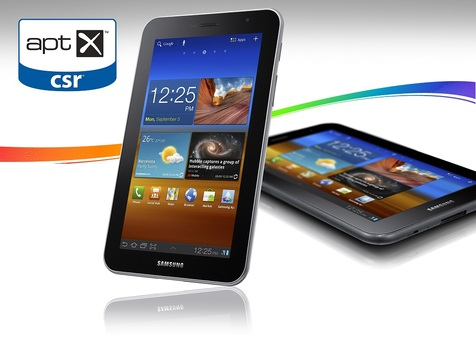 Published November 2011
As part of an ongoing licensing partnership with Samsung Electronics, CSR Plc (LSE: CSR and NASDAQ: CSRE) today announced that its aptX™ Bluetooth audio codec built into this successor to the most popular Android tablet computer will enable it to deliver outstanding CD quality stereo audio wirelessly to a broad range of aptX-enables Bluetooth stereo speakers and headsets, such as the Samsung HS3000.
"With their inclusion of our aptX codec in the new GALAXY Tab 7.0 Plus, Samsung has raised the bar for wireless audio quality. It's strong statement from a market leader underscoring the appetite for our aptX technology to ensure pristine audio over Bluetooth," said Anthony Murray, Senior Vice President of the Home Business Unit at CSR. "We look forward to Samsung continuing their rollout of additional mobile devices incorporating our aptX codec as consumers increasingly accept nothing but the best in terms of wireless audio quality."
"The CSR aptX codec uses advanced algorithms to efficiently fit the entire 10 Hz to 22 kHz high-fidelity audio frequency range neatly within the more limited bandwidth of Bluetooth wireless transmission. Through the efficient use of data rates, our aptX technology is able to deliver unprecedented audio reproduction with exceptional dynamic range. Our aptX technology also delivers low latency to avoid video lip-sync issues. When incorporated in audio generating products like the Samsung GALAXY Tab 7.0 Plus, our aptX audio codec enables stereo audio recordings to be delivered transparently over a Bluetooth link, regardless of whether they are stored uncompressed or in compressed formats such as MP3, AAC or FLAC."
Samsung pioneered the seven-inch tablet market with the launch of the original GALAXY Tab, marking an innovation milestone in the mobile industry. The richer multimedia experience provided by the new GALAXY Tab 7.0 Plus includes full HD video playback and access to the Samsung Music Hub, an extensive catalog of more than 15 million popular and classic music tracks. In addition, the AllShare feature will let the GALAXY Tab 7.0 Plus share multimedia content with TVs, PCs and laptops for true dynamic convergence.
Samsung has announced that the Samsung GALAXY Tab 7.0 Plus will be available first in Indonesia and the U.S. starting from early November, and will be gradually rolled out globally, including Southeast and Southwest Asia, Europe, the Commonwealth of Independent States, Latin America, the Middle East, Africa, Japan and China.
---