APT licensing sells its hardware business to AUDEMAT broadcast equipment group

APT licensing sells its hardware business to AUDEMAT broadcast equipment group Bordeaux, France and Belfast, Northern Ireland [ Wednesday, March 18, 2009] – Audemat and APT Licensing jointly annouce today that the broadcast hardware division of APT has been sold to the Audemat group of broadcast equipment providers.
APT, the Belfast-based manufacturer of the award-winning WorldCast and WorldNet codecs becomes part of a formidable amalgamation of Audemat companies providing innovative broadcast technologies to the television and radio industry, telecoms operators and regulatory bodies. Bruno Rost, President of the Audemat group of companies, commented: "In a few months, thanks to this acquisition, Audemat group will offer unique integrated and easy to use solutions to its customers. A large number of Radio and TV broadcasters customers are looking for simple solutions to guarantee the interoperability between different technical bricks." states Bruno Rost President of the Audemat Group.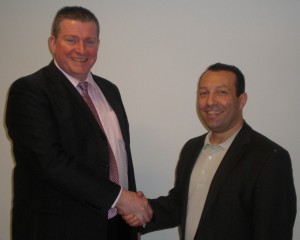 APT hardware will continue to be responsible for the design and manufacture of electronic hardware and related software, and presently employs 38 in total – management, engineering, sales, marketing and administrative staff. APT Ltd was sold by APT Licensing Ltd after a reorganisation in the APT group in January 2009. APT Licensing remains focused on licensing the company's core Intellectual Property and audio coding algorithms (apt-X). As a result of this deal APT Licensing, will step up its focus on efforts to license apt-X into consumer electronics applications and professional audio markets.
Commenting on the successful conclusion of the deal with the Audemat group, Noel McKenna, CEO of APT Licensing Ltd, said: "Speaking on behalf of the staff and the board, I am sincerely delighted about this perfect match with the Audemat group. APT's broadcast hardware division has a powerful synergy with the capabilities, ambitions and culture of the Audemat group, and complements and strengthens Audemat's value proposition to broadcasters and telecoms operators. We wish our hardware subsidiary and its new management team every success in its new future within the Audemat group."
And on the continuing fortunes of APT Licensing Ltd, one of Belfast's pioneering high-tech companies, McKenna added: "Today marks an exciting new chapter in the 20-year history of our apt-X technology, a high-end audio compression algorithm for broadcasters, and now consumers. The substantial capital raised by the profitable sale of our hardware subsidiary will be invested in our on-going mission to make apt-X the 'must-have' technology for highest-quality digital audio, especially in consumer electronics." Recent licensees of apt-X include CREATIVE Labs, Shure, and Bluegiga, the Bluetooth module OEM: more apt-X partners will be announced shortly. "Made for iPod" accessory makers JayBird and iSkin launch stereo Bluetooth headsets featuring apt-X in the next quarter.
Under the terms of the sale, Audemat have signed a licensing deal to continue to incorporate both the apt-X and Enhanced apt-X audio compression algorithms in the APT branded range of hardware codecs and across the products of Audemat group.
PR Contacts:
David Mann | PR Manager | APT Licensing Ltd
Tel: +44 28 9067 7256
E-mail: [email protected]
Sophie-Lion Poulain | Corporate PR | Audemat
Tel: +1 305 249 3110
E-mail: [email protected]
---