Deirdre Terrins judges in the InterTradeIreland 'All-Ireland Seedcorn Competition'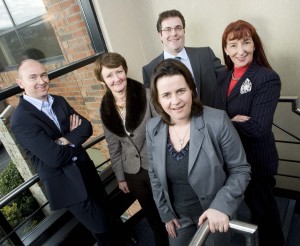 12th November 2008 – Deirdre Terrins, Investment Manager at Crescent Capital Ltd contributed her expertise as part of a five person panel to pick the best Seedcorn Investment opportunity for the Dublin region. In InterTradeIreland's 'All-Ireland Seedcorn Business Competition.'
Presentations to the panel from each candidate company lasted 15 minutes followed by a 15-20 minute question and answer session. Judges were encouraged to probe the entrepreneurs on the validity of the investment proposal and particular areas of the plans presented.
Elaine Coughlan – Co-Founding partner of Atlantic Bridge (ABVEN), a multi-stage private equity fund with assets of over 400 million Euros under management.
Regina Breheny – Manager of portfolio Investments by the Irish Government arising out of the State's Financial support for industrial and technological development. Regina is a fellow of the Institute of Chartered Accountants and a member of the Institute of Taxation and of Investment Management and Research.
Mark Heffernan – CEO and Co-founder of Opsona Therapeutics. Opsona is presently a finalist in the 2008 Ernest and Young Entrepreneur of the Year Programme in the Emergency Company category.
Neil Simms (Chair) – Finance Director of, and an Investment Manager with, Claredon Fund Managers Ltd.
The competing companies for the two divisions were as follows:
Dublin Emerging International Company
1.) Aqueduct Investments
2.) Coolpower
3.) AltaScience
Dublin Emerging Company
1.) CandidatesDirect
2.) Q-Validus Presentation
3.) Flowers made Easy
About Deirdre
Deirdre has fifteen years corporate experience in managing new technology offerings and market creation. Following her first degree in Psychology she pursued her early career as a human factors engineer and research team director at Plessey/GPT. She completed her two post-graduate degrees in Artificial Intelligence (City) and Product Development (RCA) and was responsible for new product innovation working on communications, sensors and instrumentation for industrial manufacture, telecommunications, space and defence applications in collaboration with leading technology organisations including EDS, BT, GEC/Marconi, Televerket, IBM and the European Space Agency.
She managed innovative product development strategy at Siemens in UK and Germany where she undertook her MBA and management training whilst taking part in off pan-European ESPIRIT projects. Subsequently she led 'intrapreneured' spin outs for Xerox in the UK and US. Whilst at InConcert Inc (a Xerox New Enterprise Company) she led the 'beach-head' sales of process based workflow solutions (Manila) with multi-million $ deals to Inland Revenue (UK) with EDS, Swedish Tax Authority and the Office of Fair Trading (Case Management System) teamed with CMG among others. She also led on collaborative technology and licensing agreements with new partners including the InConcert Inc collaborations with Lucent Technologies (provisioning framework for telecoms services) and WorldCom.
Her track record in new product development includes successful introduction of 'disruptive' technologies and the creation of new markets in both public and private sectors. At Crescent Capital II Ltd Deirdre is an Investment Manager and is a director of MailDistiller Ltd and Omiino Ltd. She also acts as advisor on VC funding to developing companies as they go through their investment readiness activities. She is a regular guest 'Dragon' on competition and funding panels where she brings specialist expertise in commercialising core Intellectual Property and the formation of effective 'top teams' in entrepreneurial companies.
The winners of the two categories for the Dublin area and those of the other regions will be announced on the 27th November at the Dinner and Final Awards Ceremony at the Ramada Hotel. The InterTradeIreland All-Island Seedcorn Business Competition is a key event in the year for entrepreneurs in Ireland. It gives high-growth and emerging companies the opportunity to gain confidence and advice from professionals, VC's and other funding bodies.
---