Board of Advisors CCII LP
Alison Rankin
Alison Rankin, a Chartered Accountant by profession, is a dedicated and results-driven senior manager with a highly successful background in the development and delivery of robust strategic financial management in both the public and private sectors.
She was appointed Interim CEO of Innovation Ulster Limited (formerly UUTech Ltd) in October 2006, having served on the board for two years, and continued in an executive directorship role until late 2011, overseeing the entire technology and knowledge transfer / exchange processes; including IP management, consultancy, company development and investment. Substantively, she is employed as Director of Finance and Planning Information at the University of Ulster, monitoring and controlling the University's financial operations and financial strategy. Previously, Rankin spent 10 years in the private sector, laterally, as a Group Financial Controller within the CRH group, during a period of significant growth and acquisition.
Rankin serves on several Board of Directors, and specialises in strategic financial management and development.
---
Helen Kirkpatrick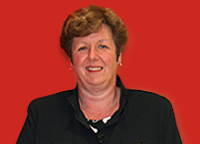 Helen is a Fellow of the Institute of Chartered Accountants in Ireland and a member of the Chartered Institute of Marketing. Helen is a non-executive director of Kingspan Group plc and of UTV Media plc. She works in the Corporate Finance division of Invest Northern Ireland.
Helen was formerly a board member of the International Fund for Ireland, a director of the Enterprise Equity Venture Capital Group and a non-executive director of NI-CO (Northern Ireland Public Sector Enterprises Ltd).
---
James O'Kane
Mr. James O'Kane is currently Registrar and Chief Operating Officer of the Queen's University of Belfast. He joined the University in 1994 as Director of Finance and took up his current position in 1999.
Prior to this he had periods of employment with the Northern Ireland Staffs Council for the Health and Social Services and the Northern Ireland Housing Executive. He was appointed Deputy Director of Finance at the University of Ulster in 1984 and became the North-Eastern Education and Library Board's Director of Finance in 1992.
An advocate of technology and knowledge transfer he is a Director of a number of companies including QUBIS Ltd., QUHARS Ltd., NI Challenge Fund Ltd and NISP (Holdings) Ltd. He is also currently a Director of the Royal Group of Hospitals Trust and formerly the Chairman of the Belfast Metropolitan College, the largest provider of tertiary education in Northern Ireland.
He is an honours graduate in Accounting and a qualified chartered accountant.
---
John Galbraith
John is a qualified Accountant (CPFA) and qualified Chartered Secretary (ACIS) now retired. After some eight years as Vice-Chairman of Local Authorities Mutual Investment Trust (United Kingdom), John was previously appointed Chairman of the Northern Ireland Local Government Officers' Superannuation Committee (NILGOSC) and was reappointed by the Minister for the Environment of the Northern Ireland Assembly.
John is on the supervisory Board of a number of small venture capital companies and was recently appointed by the Secretary of State for Health as a member of the National Health Service Pay Review Body.
© Crescent Capital 2014