Disruptive accelerator company Analytics Engines secures £1m+ investment 'to expand global footprint'
Analytics Engines, a Belfast-based specialist in accelerating applications for databases and Big Data, has announced closure on the final part of a £1,000,000+ funding round today.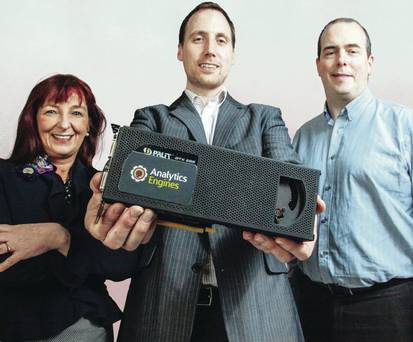 Analytics Engines products are designed to offer significant benefits to companies that need to run faster, more accurate analytics on large volumes of data –such as those in the finance, genomics, utilities and database sectors. Led by venture capital fund Crescent Capital, the £1 million+ investment will be used to speed up productisation and exploitation of IP, diversify current offerings into new sectors, support the product development road map and expand the company's global footprint.
Winners of the Silicon Valley 2013 Best Emerging Technology Award from ITLG, Analytics Engines improves business performance by enhancing the speed and efficiency of software applications up to a magnitudeof 1000x. The company has used its partnerships with Philips Healthcare, SAP, Credit Suisse and others to demonstrate significant.
Dr Stephen McKeown, CEO of Analytics Engines, said: "The Analytics Engines suite of plug-in accelerators allows increasingly complex analytics and enhanced real-time processing of Big Data in areas such as database analysis and transactional processing, to financial risk and medical imaging. Tasks that formerly took hours to perform are now possible in minutes –this creates significant business opportunities that were unobtainable only a few years ago.
"We are very excited with this new funding round as it will allow us to more rapidly progress our product roadmap, improve our product portfolio and diversify our offering into new markets".
Analytics Engines CTO Professor Roger Woods, currently seconded to the company under an EPSRC Impact award from Queen's University Belfast, said: "This is a QUBIS spinout company doing remarkable things from a technology point of view. It is clear that simply adding increasing numbers of computer servers has its limits from both a scalability and cost perspective. With its disruptive accelerator technology, Analytics Engines is allowing extremely computational analytics to be efficiently run on large data volumes".
According to Crescent Capital, this investment is further evidence that high technology firms with market changing export potential are emerging from the indigenous entrepreneurial culture in Northern Ireland.
Deirdre Terrins, who led on the origination and completion of this investment for Crescent as Investment Manager said, "This investment demonstrates our belief that Analytics Engines is building highly attractive and disruptive technology which is at the forefront of the needs of businesses now and in the foreseeable fast paced future of Big Data across a number of high growth sectors. We are looking forward to supporting the development and success of this exciting proposition."
About Analytics Engines (www.analyticsengines.com) 
Analytics Engines provides customers with fast and efficient processing of business and application data. Originally spun out of the ECIT Institute at Queen's University Belfast in 2008, Analytics Engines improves business performance byenhancing the speed and efficiency of software applications. This is achieved through a suite of accelerators which can be easily integrated with existing software to provide increased application performance. This performance boost leads to significant commercial advantage, allowing increasingly complex analytics and enhanced real time processing of Big Data.
For further information about Analytics Engines log on to www.analyticsengines.com
---